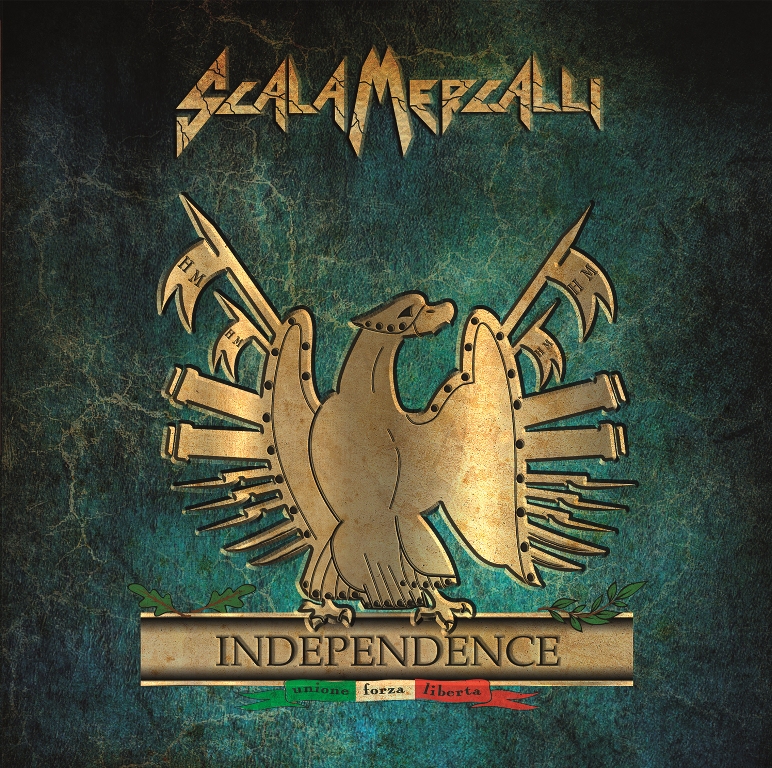 Scala Mercalli is a traditional heavy/power metal band from Italy. They've been playing and making albums since 1992. INDEPENDENCE came out for the Alpha Omega Label on January 25th 2019 for Italy and in February for the rest of the world. This album tells about the first part of the Italian Risorgimento, from Naple's Reign ruled by King Murat until Mazzini's Roman Republic, including episodes on Mille (The Expedition of the Thousand) and Brigandage, with some of their main characters. From the to the above-mentioned period fought side by side with the people and contributed with hard to build Italian nation.

Scala Mercalli does not make the genre as heroic and tending to arena compatible sounds as Sabaton, rather like Iron Maiden in their classical period (1980s). To be honest, it can be boring after a while, but they chose an interesting period of Italian history as the topic of Independence. It is what makes their fresh work great and listenable. While listening, you also have the opportunity to get more informations about the background from the beautiful booklet. The most valuable moments of the album are The 1000 (Calatafimi Battle), Be Strong, Never Surrender, and the epic and suggestive Anita (Ana Maria de Jesus Ribeiro da Silva) without a doubt. For me the sound is a little bit old-fashioned, more likely to the 1980s or 1990s but it is not totally a negative point, I would say. All the lyrics are bringing true patriotic and heavy metal feelings. They are not telling stories as in the case of Sabaton - they are attached to human feelings on the way of patriotism and simple but memorable messages on the way of heavy metal as - for example - Judas Priest.
Scala Mercalli - unfortunately - is not a widely known Italian band, however their work is very impressive, just see and listen to their new album, titled Independence: almost 50 minutes of pure patriotic and true heavy/power metal, a great time travelling back to the golden age of metal and an interesting period of Italian history. I hope we'll hear about them soon!
Tracklist:
1. The Crossing on the Sea 
2. The 1000 Tracklist (Calatafimi Battle) 
3. Honest Brigands 
4. Be Strong 
5. The Last Defense (Rome-Gianicolo 1849) 
6. Never Surrender 
7. Tolentino 1815 
8. White Death 
9. Whisper of the Night 
10. Anita (Ana Maria de Jesus Ribeiro da Silva) 
11. Fratelli d'Italia (Italian Anthem) feat. Angelico Rosati choir
Line-up:
Sergio Ciccoli - Drums 
Christian Bartolacci - Vocals 
Giusy Bettei - Bass 
Clemente Cattalani - Guitars 
Cristiano Cellini - Guitars
Total: 7/10

Please follow our Facebook page, facebook.com/maximumrockandrollblog